Get Your
Iran Visa

in Less than 3 Days, For only

€35
Fast & Reliable

Get your visa in less than 3 days, guaranteed!

Government Certified

We are an authorized travelling agency with more than 500 successful visa applications

24/7 Professional Support

Our support team will be with you in every step of the way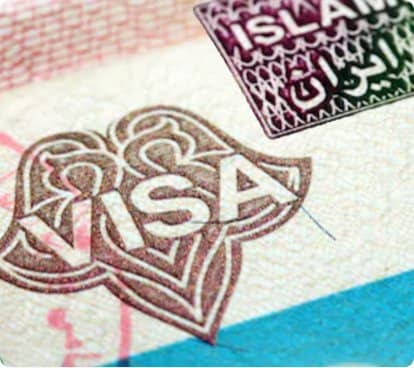 One Visa for 30 Days, For Every Nationality
With Iran visa in hand, you will be able to enjoy the majestic land of Iran for up to 30 days. HelloPersia will take care of your visa application process regardless of your nationality. Please take a look at the following categories before applying.
Foreign nationals who intend to visit Iran must obtain an Iranian visa from one of the Iranian diplomatic missions unless they come from one of the visa exempt countries or countries eligible for a Visa on Arrival.

A few number of nationalities are under specific conditions to get Iran visa which can be categorized to two groups; group 1 needs to apply directly through Iran embassy/consulate in person and group 2 needs to provide extra documents on their trip.

Currently, nationals of the some countries do not need to obtain a visa to enter Iran and can stay in the country for a period of 14-45 days based on their nationality. Nationals of the visa exempt countries need to get a visa if they want to stay in Iran longer than what the visa-free travel program allows them.
Your Iran Visa is Only 4 Easy Steps Away
Enter Your Details

Fill out the visa application form. Enter your personal information and travel details.

Pay Iran Visa Service Fee

Check the entered information and pay the service fee (starting from E10). You will receive a confirmation email afterwards.

Receive Your Iran Visa Code

After filling out the visa application form, we apply for your visa and get the response from the MFA (Ministry of Foreign Affairs) within 3 working days. The electronic visa code will be emailed to you by Hello Persia and afterwards, you just need to collect your visa at the place you have chosen (it can be either the Iran embassy/consulate or upon arrival at the airport).

Collect Your Visa & Enter Iran

The place of collecting the visa is according to what you have chosen while filling out the application form. It can be upon arrival at any international airport in Iran or Iran embassy or consulate in a city throughout the world. You attend the place, show your electronic/printed authorization code, pay the visa collection fee based on your nationality and collect your visa.
Requirements to Get Your Visa Today
Hellopersia Account

Personal Details

Passport Details

Estimated Arrival Date

Visa Collection Location

Credit Card
500+ People Liked Our Services, Hear from Them

Great (10 of 10)
A+ Service with A+ Support
I have gotten my Iranian- Visa with HelloPersia two times within 2-3 working days :)

Rafal S
reviewd
Hellopersia
Great (10 of 10)
Very good service and great prices
They're great! The code for my visa application was ready for me in in just 2 days! All done online of course.

Tomek K
reviewd
Hellopersia
Great (10 of 10)
Efficient and professional service
I used Hello Persia for the first time to arrange my visa and was very smooth , quick and professional.
We're Rocking a perfect
5/5
score on
Choose Your Nationality & Get Your Visa in Less than 3 Days
Frequently Asked Questions
How much should I pay for an Iran visa?

You should pay two separate fees for your Iran visa: A visa application service fee which you pay online and a visa collection fee which you must pay when you collect your visa at an Iranian embassy/consulate or airport. The visa collection fee depends on your nationality. You can check the visa collection fee for different nationalities here.

What type of Iran Visa can I apply for via HelloPersia?

You can only apply for a tourist Visa (single entry). Here you can read about different Iran visa types.

Does a visit to Iran affect my future visits of other countries, like US Visa Waiver Program?

Definitely NO. In 2018, Iran updated its visa policy and started a new stamp-free policy to encourage more foreign visitors to enter Iran. In the new policy travelers neither get a visa label nor an enter/exit stamp on their passports. Therefore, they will not face any difficulty in their future trips and also can easily use the Visa Waiver Program to enter the US.

How long before the trip is the best time to apply for an Iranian visa?

For the majority of nationalities, it's recommended that the application form is sent to us two weeks prior to your trip. The visa grant notice will be ready within 3 working days after the application. Afterwards, you can collect your visa at the airport or in the Iranian embassy/consulate in your country. Just be careful that if you choose the embassy/consulate, you have enough time to go to the embassy and collect it.

How long can I stay in Iran?

A tourist visa usually allows you to stay in Iran for 30 days but you may be able to extend your visa twice, each time for another 30 days. Click Here for more details about extending an Iran visa.

May my visa application get rejected?

Yes but statistically speaking, less than 3 percent of visa applications get rejected. The decision to grant visas is made by the Iranian Ministry of Foreign Affairs and HelloPersia cannot interfere in the visa process.

Can I get a multiple-entry visa?

No, the tourist visa is issued for a single entry. If you wish to travel to Iran repeatedly, it is recommended to apply for a different type of visa.

I have made the payment, what is next?

After you complete the payment, we will submit your application to the Ministry of Foreign Affairs. You will receive an email from us in three working days about the status of your application.

I do not have a credit card. Is there any other way of e-Visa fee payment?

No. You can only make the payment with a credit card (only MasterCard or Visa card). There is no obligation to use a credit card with your name for the purchase.

I previously applied for an Iran visa but I got rejected, can I apply through HelloPersia now?

Yes, even if your previous application was rejected, you can still use our visa application service.

Can I cancel my visa application?

Yes, you can request the cancellation of your visa application but the service fee is non-refundable.

Did not find your question here?